Your Syrian hamster will spend most of its time in a cage. A good cage will contribute a lot to its overall health and wellbeing. So, it's important to give your hammy a place where it can explore, feel secure and participate in enriching activities.
In this article, we'll review the important qualities to look for in a Syrian hamster cage. Then, we'll compare six different cages by discussing their best and worst features.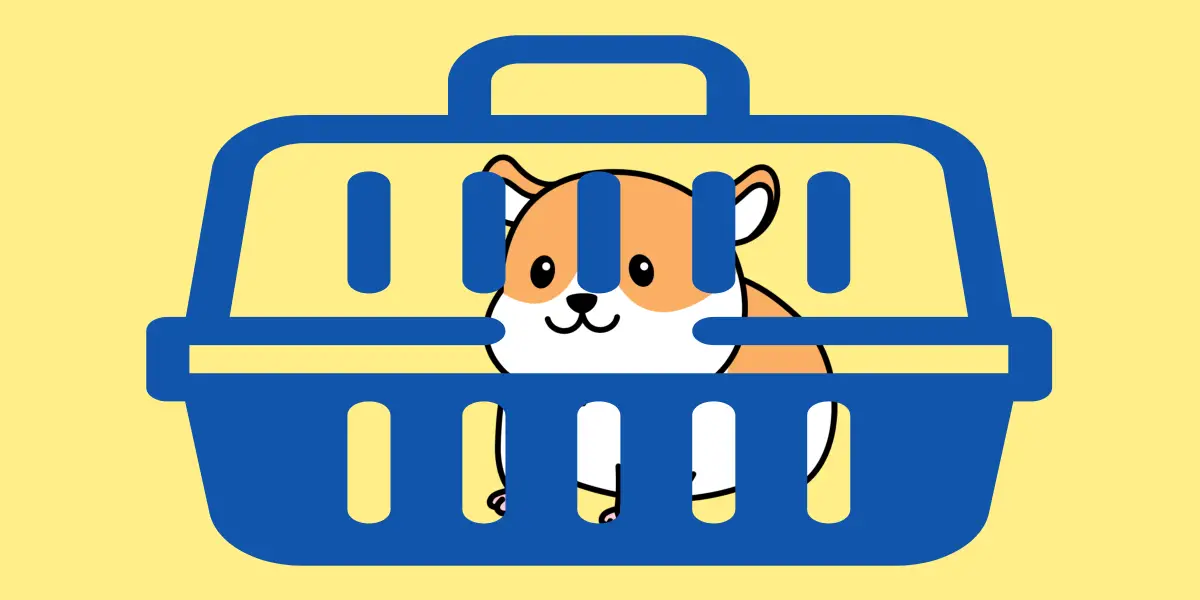 Let's explore!
Best Characteristics of Cages for Syrian Hamsters
Not all hamster cages are equal. Because Syrian hamsters (also known as golden, teddy bear or black bear hamsters) are larger than other breeds, they sometimes don't fit in all the same places.
Here are a few things to look out for when shopping for a Syrian hamster cage.
Appropriate Size
Floor space is very important. Sometimes, accessories can take up too much of the available area, leaving your hamster with little or no running room.
Look for a minimum cage space of 24" L x 12" W x 12" H. But, the bigger the better. Animals need space to move.
Many accessories, like tubes and wheels, are too small for Syrian hamsters, especially if your hammy is on the larger side of the breed. If cages come with accessories, it's a good idea to make sure they can be replaced with larger versions, just in case your hamster doesn't fit.
Safety
Hamsters are known for being escape artists. The space between each cage bar shouldn't be more than ½ inch apart. The doors on the cage must be secured.
Some hamsters chew on cage wires. If, after providing them with plenty of chew toys, your hamster still chews on wires, a cage with solid sides might be the best option.
Easy to Clean
Cleaning the cage is a frequent reality for hamster owners. Wire cages and plastic trays are the materials easiest to clean.
Ventilation
Good fresh-air circulation is very important for hamsters. Wire cages are by far the best option to give your hamster good ventilation.
Durability of materials
Avoid flimsy plastics and cardboard. Metal wiring and sturdy, long-lasting plastics are the best choices.
Dimensions: 32.5" L x 19" W x 17.5" H
Wire spacing: ⅜ inch
Weight: 14 pounds
Doors: Two, with wire-latch locks
Multi-level: Yes
This spacious wire cage is a great option for Syrian hamsters. It features a second-level platform with a sturdy ramp, large doors for easy owner access, and a large amount of floor space.
Pros:
Easy to clean
Two large doors
Replacement parts available
Cons
One safety clip on main door
Doesn't come with wheel
Dimensions: 19.7" L x 14.2" W x 18.5" H
Wire spacing: 8.5 mm
Weight: 7.05 pounds
Doors: Two, one in the cage and one in the "penthouse"
Multi-level: Yes
Your hamster won't get bored in this cage; there are plenty of enrichment activities. If you're just getting started as a hamster owner, this cage is a nice option because it comes with accessories to start you on the right track.
Pros:
Sturdy construction
Enrichment activities
Cons:
Falling hazard: not all platforms are enclosed
Cage door is hard to open
Dimensions: 23.6" L x 14.4" W x 11.8" H
Wire spacing: ¼ inch
Weight: 6.28 pounds
Doors: One door on top of cage
Multi-level: Yes
Manufacturer's warranty: Yes; 1 year
This cage features two floors. The bottom floor is deep and plastic, and detaches from the top floor for easy cleaning. A plastic "hamster-friendly" ramp connects the two floors.
Pros:
Creative two-level design
Easy to clean
Lots of floor space
Cons:
Included accessories aren't quality construction
Wheel may be too small for some Syrian hamsters
Dimensions: 21.25" L x 14" W x 23.5" H
Wire spacing: ⅜ inch
Doors: Three, one in front and one on each side
Multi-level: Yes
With five levels, this cage will provide ample exploration opportunities for your hamster. This cage has three doors so owners can retrieve their hamster wherever it happens to be in the cage. The removable plastic bottom tray makes for easier cleaning.
Pros:
Many enriching activities
Sturdy construction
Cons:
Falling hazard: not all platforms are enclosed
Contains parts that are choking hazards for children under 3 years old.
A little small for some Syrian hamsters; floor space is somewhat limited.
Dimensions: 31.5" L x 19.7" W x 19.7" H
Wire spacing: 9.55 mm
Weight: 12.17 pounds
Doors: One
Multi-level: Yes
This cage's smart design features an enclosed "penthouse" that has no falling hazards; it's only accessible through a tube the hamster must crawl through. A majority of the accessories in this cage are above ground level, so there is a good amount of available floor space.
Pros:
Ample floor space and enrichment activities
Handles on each side for easy moving
Cons:
Expensive
Hard to assemble
More difficult to clean
Dimensions: 18.11" L x 11.61" W x 21.26" H
Wire spacing: ½ inch
Weight: 6.1 pounds
Doors: One
Multi-level: Yes
Manufacturer's warranty: Yes; 1 year
Featuring a fun and creative design, this cage allows for vertical exploration and play while protecting hamsters from falls. This is another great option for new hamster owners; it comes with many accessories and enrichment toys.
Pros:
Machine-washable parts
Non-slip ramps
Sturdy construction
Cons:
A little difficult to assemble
Width of cage is a bit smaller than recommended size for Syrian hamsters (12 inches)
The Best Cage for Your Hamster
With your newfound knowledge, it's time to make the best decision you can for your hamster. If you keep health, safety and enrichment in mind, you'll be sure to find a great new home for your furry friend.