Chew toys provide hamsters with many benefits and pleasures.  Toys give your hamster a sense of happiness, and we all want our pets to be happy.  Choosing the best hamster chew toys for your pet will keep him busy, maintain his oral health, and prevent him from chewing harmful things. In this post we'll be covering the best hamster chew toys around.
How do you choose the best chew toy for your hamster?  Let's look at some general principles to consider when buying hamster toys: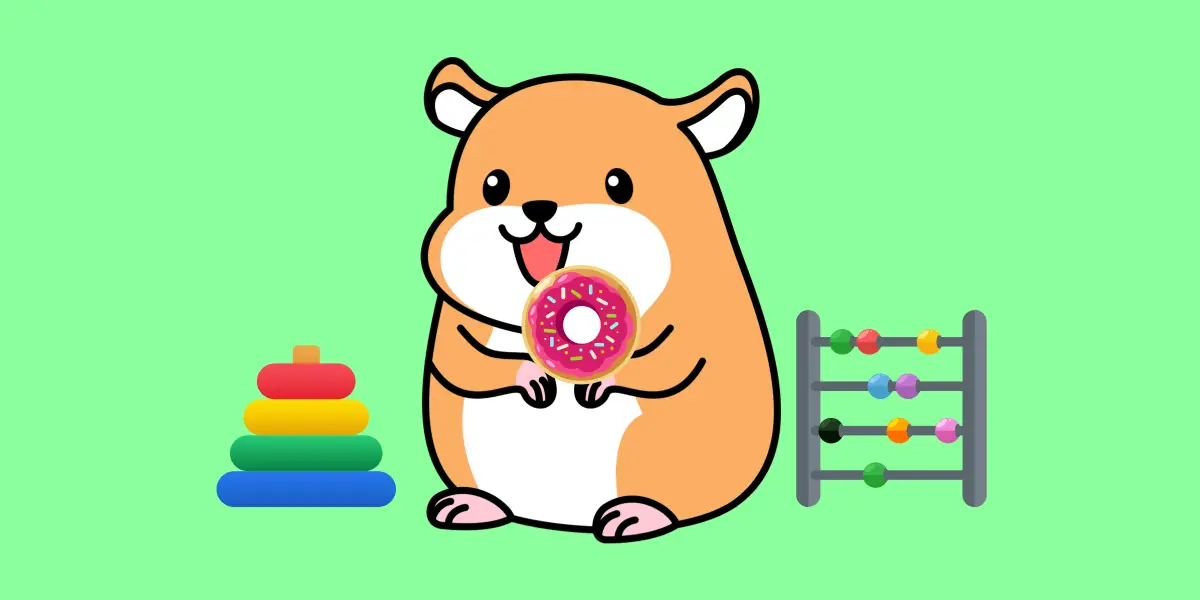 Safety should always be the number one consideration when choosing toys for your pet.  So, when choosing chew toys, take into consideration what the toys are made of.  Look for toys made with non-toxic materials that won't harm your hamster, and make sure any paint is food-grade.
Some hamsters are picky and won't chew on or play with every toy you give them.  They don't know you spent a fortune on that latest toy, just that they don't like it.  This can get expensive if you have to constantly try new toys.  Look for toys that are reasonably priced and don't break your budget.
Some chew toys are consumable and have an expiry date.  Some hamsters consume these quickly, and you won't have to worry about it.  If your hamster is less enthusiastic, the toy may remain in its cage beyond the expiry date.  Take note of these dates on perishable and consumable items to prevent your hamster from becoming sick.
Keeping your hamster in good health is important for its longevity.  Vitamins, mineral, protein, and fibre are all critical components of the hamster diet.  Choose toys that help to maintain your hamster's nutritional balance, but don't rely on them for overall nutrition.  Toys should supplement their diet, not be their primary source of nutrition.
Variety of Options
There are a wide variety of hamster chew toys on the market, so which ones do you choose?  Which ones are best for your hamster will depend on their energy level and preferences.  But here is a shortlist of some of the best hamster chew toys currently available:
These dental chews are designed for dogs but are safe for hamsters and one of their favorite chew toys.  They keep your pet's teeth strong and healthy and prevent overgrowth.
Hamster chew toy safety is affected by many factors, including your hamster's size and breed.  Rice pops are crunchy, which makes them appealing to hamsters.  They're made from rice and corn, which makes them healthy.  These are ideal chew to prevent cage boredom and promote dental health.
These chew toys come in packages of three.  They are made from wood and great for your hamster to gnaw on.  They are easy to clean and long-lasting.
Dried seagrass twists are a perfect crunchy chew toy for your hamster.  Made from all-natural ingredients, they are safe to consume and encourage your little critter to nibble and play.
Wooden chew toys are the gold standard of hamster chew toys.  They can usually be purchased in large sets and include toys such as dumbbells, rollers, balls, seesaws, strings, and rope.  They are very attractive for hamsters, and most will enjoy their newfound playground.  Made from natural wood, they are 100% safe for chewing and biting and will keep your pet active and healthy.
Kaytee is a popular brand for hamsters.  This carrot-shaped, spinning toy helps clean and floss your hamster's teeth.  It's made of food-grade materials and safe for consumption.
This is a package of five crunchy wooden food-flavoured crunchies perfect for hamsters.  They are the size of your pinky finger and brightly coloured to make them attractive to your pet.
Corncobs are a healthy chew toy option for hamsters.  They take a long time for hamsters to chew through, making them budget-friendly.  They find them entertaining, and they are a great way to take care of your hamster's teeth.
Best Hamster Chew Toys – Final Thoughts
I hope you enjoyed this list of the best chew toys to keep your hamster entertained and healthy.  The level of your hamster's playfulness will depend on how long these toys will last, but most of them are fairly durable.  Interchanging or rotating your toy selection can help alleviate boredom for your hamster, so it's always a good idea to have a variety of different toys on hand.  All these toys are extra-safe, food-grade toys that are affordable and safe.